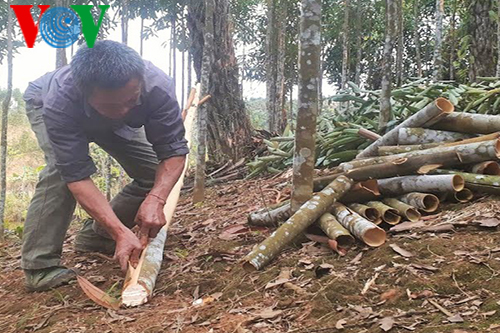 Many farmers in Bao Yen earn tens of thousands of USD from growing cinnamon trees. (Photo: An Kien/VOV)
Phan Thi Tich's family in Da Vac's hamlet, lives in a forest area. For decades their income has come mostly from growing cinnamon. Tich and her husband have 2 hectares of cinnamon trees which are 7 years old now.
In 5 years, when the cinnamon trees are fully mature, they will make enough money to enjoy a comfortable retirement.
Tich told VOV: "Growing cinnamon trees is quite profitable. Our income comes only from growing cinnamon trees. Cinnamon, which is very suited to this soil, sells for a good price, and you don't have to go anywhere. Traders will come to you to buy the cinnamon."
All the households in 31 villages in Xuan Hoa commune are engaged in growing cinnamon. All parts of the cinnamon tree - branches, leaves, roots, and barks – are harvested for sale. Traders buy cinnamon materials on site and sell them to oil and wood processors in the district.
The cinnamon attar oil processing facility of the Son Hai Forestry and Agricultural Processor in Mo Da Village buys all the cinnamon branches and leaves in the entire district. Each year the facility produces 27 tons of cinnamon oil, earning more than 1.3 million USD in revenue.
Pham Ba Tue, the plant's manager, said: "When our plant began operations in 2014, Bao Yen couldn't provide enough input materials for us. But it's better now. We buy cinnamon leaves from the locals at a good price to encourage them to increase their production. Everything we produce is sold out immediately."
At current prices, each hectare of cinnamon trees 10 to 15 years old will produce a revenue of 26,000 to 35,000 USD. And growing cinnamon is easier than growing other crops.
Under a plan until 2020, Bao Yen district's cinnamon cultivation area will increase from 15,000 ha to 20,000 ha. With the current stable price, by 2025, cinnamon will bring in up to 44 million USD per year to local farmers.
Through market research and cooperative agreements with key foreign partners, cinnamon trees should be a mainstay for farmers in the district for the next 20 to 30 years.
Hoang Quang Dat, Chairman of the Bao Yen People"s Committee, told VOV: "We have recommended that provincial leaders loan each cinnamon hectare 220 USD and have collaborated with the agriculture department to teach local farmers better farming techniques. We hope to make Bao Yen district Lao Cai's principal cinnamon growing area."
Nguồn: vovworld.vn