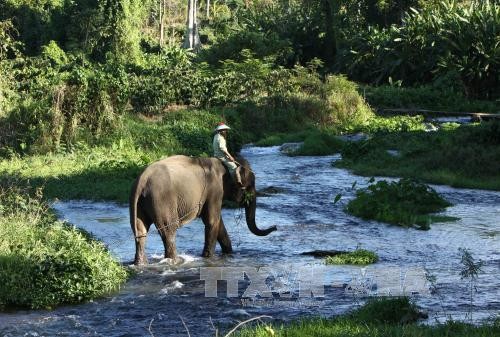 (Photo: Duong Giang/VNA)
Male elephant Y Kham Sen of the Lak Lake ecotourism site relaxes in the shade of a tree and eats chopped banana trunk, its usual meal after a day of carrying tourists on sightseeing trips.
Y Winh Eung, the elephant's mahout, says that in the past, after a week of carrying tourists, elephants used to be released into the forest for 1 to 2 weeks to forage for food. Elephants are wild animals and ordinarily leaves, grass, and young bamboo shoot account for more than half of their diet.
Due to shrinking forest food resources, elephant owners have to supplement their diet with maize, sugarcane, and bananas. This food is sufficient in quantity but insufficient in nutritional value. In addition, climate change, particularly higher temperatures, and overwork is making elephants weaker and reducing their lifespan.
Y Winh Eung said: "The forest is the elephants' home. But now there is less leaves and grass there. Elephants eat a lot. If there is enough food, a young, strong elephant can eat up to 50 kilos a day. So how can we ensure enough food for the elephants? We have to feed them additional starchy food like corn and bananas to get them full. But that food doesn't make them as strong as the food they eat in nature."
Lack of the right food and normal conditions is harming the herds of wild elephants. Since 2012, 10 elephants have died in Dak Lak province from old age, exhaustion, or being attacked by wild elephants.
Dak Lak has also recorded many cases in which wild elephants have damaged crops and property, and threatened human lives.
The Dak Lak Elephant Conservation Center reports that there are 5 herds of wild elephants with 80 to 100 individuals living in the Buon Don, Ea Sup, Ea H'leo, and Cu Mgar districts of Dak Lak.
Huynh Trung Luan, the Center's Director, says the growing number of clashes between elephants and humans is because the elephants' natural habitat has shrunk.
"Conflicts between elephants and humans occur when elephants come to farms that have some of their favorite trees. Elephants come to developed areas more regularly as their habitats shrink and fragment," Luan explained.
Since 2014, Dak Lak has been conducting an emergency elephant conservation program. After 5 years, every domesticated elephant in the province has been implanted with a microchip, making it easier to manage their profile, monitor their health, provide regular medical checkups, and detect and treat diseases.
The project has studied the fertility of the domesticated elephants and discovered 8 individuals still capable of reproduction. It has also treated elephants' wounds and diseases, and rescued and cared for injured elephants. Currently the center is raising 2 rescued wild elephants.
Dak Lak province has been coordinating agencies, organizations, and individuals to preserve wild elephants' habitats and migration routes.
It plans to set aside a 350-hectare area for grazing and health and reproduction care for tame elephants in Lak and Buon Don district.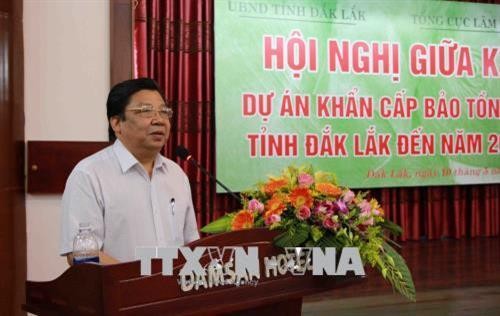 Cao Chi Cong, Deputy Director General of the Vietnam Administration of Forestry addressed a conference on urgent protection of elephants in Dak Lak, May 10, 2018.
(Photo: Pham Cuong/VNA)
Cao Chi Cong, Deputy Director General of the Vietnam Administration of Forestry, underscored the importance of developing a safe habitat for elephants.
"The quality of forests in Dak Lak has been declining for several decades. The food sources for elephants have also declined. That's why we have to create a habitat where trees will be planted. In Dong Nai we have planted trees. In Son La, we have installed water systems," he stressed.
Dak Lak plans to create an area for wild elephant herds covering 175,000 hectares.
Nguồn: vovworld.vn