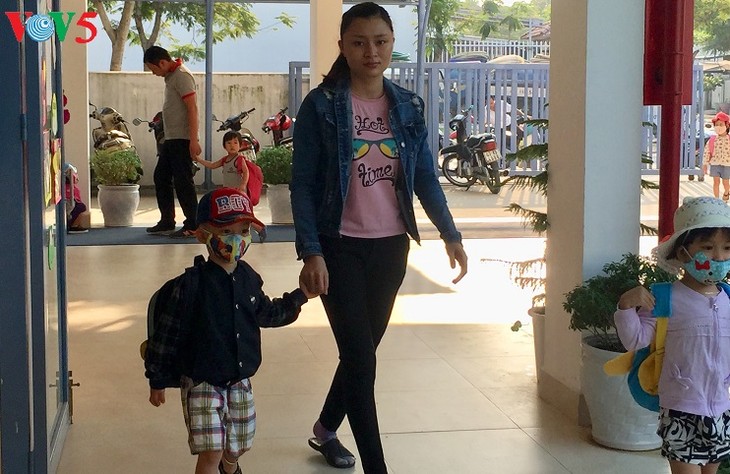 Workers of Hoa Khanh industrial zone take their children to OneSky.
Every day at 6 a.m., workers of the Hoa Khanh industrial zone take their children to OneSky on their way to work.
Nguyen Thi Kim Anh, an employee at the Makitech Vietnam Company, says in the past she had to hurry every morning to prepare breakfast for her 2 kids and take them to a private school 3 km away.
Originally from the neighboring province of Quang Nam, Kim Anh and her husband have worked in Da Nang for 4 years, earning more than 300 USD a month.
Kim Anh says she was very happy when OneSky opened last September.
"This center saves us a lot of money, about half the fees. We don't have to bring milk to the school for them. Part of the school fees are subsidized. We only have to pay 35 USD a month," she explained.
Doan Tuan Khoi, who works for CiAR, a city planning and architecture company from Da Nang, says he earns nearly 180 USD a month and often has to work overtime. But since his daughter was admitted to OneSky, things have been less difficult.
Khoi said he feels secure because his one-year-old daughter is fed 5 times a day and there are only 4 to 7 children in a class. And the children enjoy the most advanced educational methods in the world.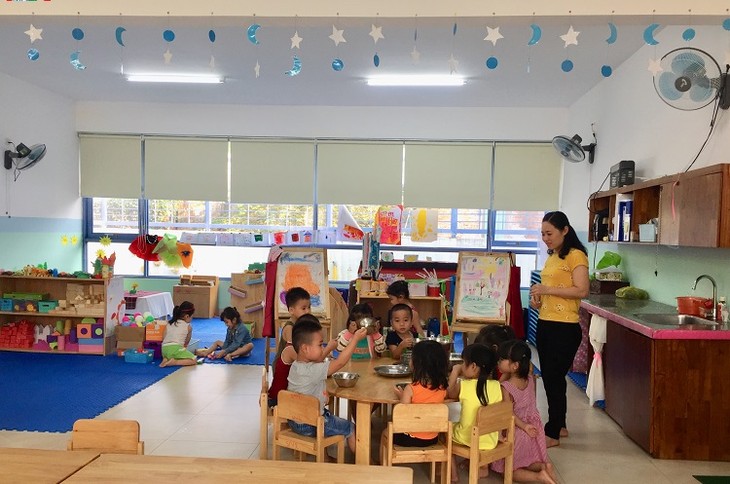 A class at Onesky center.
"The center minds the children from 6 am to 8 pm, making it easier for parents to work overtime. The children learn a lot of things", Khoi elaborated.
Deputy Director Tran Thi Thanh Binh said OneSky is sponsored by the Half the Sky Foundation, a non-governmental organization from the US. The center is a social protection facility designed to create an international-quality environment for children of poor workers at the Hoa Khanh industrial zone.
The center applies a flexible curriculum which helps children develop thinking skills, promotes their capacity for team work, and stimulates curiosity and observation in a friendly and open educational environment.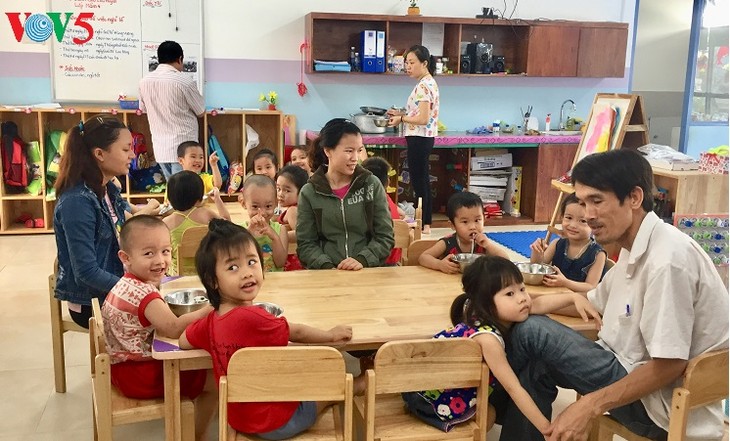 Onesky encourages parents to visit and participate in activities with their kids.
Binh said teachers record the children's activities every day to help the parents keep track of their eating, learning, and playing at school.
"The center's teaching method gives the children a firm foundation for the future. For example, the children are trained to improve their personality, physical health, spirit, emotion, and confidence," Binh added.
OneSky Da Nang is the first kindergarten for children of disadvantaged workers in Vietnam to follow international standards. Although the actual cost for each child is about 207 USD a month, parents have to pay only 35 USD. The rest is paid by the Half the Sky Foundation.
Nguồn: vovworld.vn