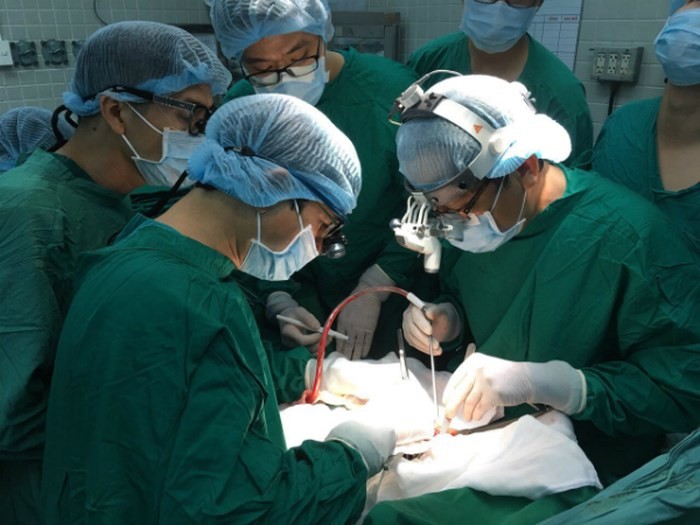 Doctors at Cho Ray Hospital are performing a heart transplant surgery.
(Photo credited by Cho Ray Hospital)
On 25 February 2018, Cho Ray Hospital was informed of a patient who was donating multiple organs at Military Hospital 108. Four organs were transplanted into patients in Hanoi. The heart and kidney were available for a transnational transplantation.
The following day, Cho Ray Hospital successfully transplanted the donor's two organs. One recipient was a 29-year-old male patient from Tien Giang province. The other was a 25-year-old girl from Ninh Thuan province. This was the third transnational organ transplant and the second heart transplant at Cho Ray Hospital.
The transport of the donated heart and kidney was the hardest step in this surgery. Doctors only had 6 hours to go from Hanoi to HCMC after the heart and kidney were taken out.
Doctor Thai Minh Sam, head of the Kidney-Urology Department of Cho Ray Hospital, recalls: "At first we planned to transport the heart and a kidney in one flight to be able to perform the surgery at the same time. But the Vietnam National Heart Institute said the heart must be moved as soon as it was removed. Because the kidney was removed later, it was impossible to wait. We agreed to take the heart immediately."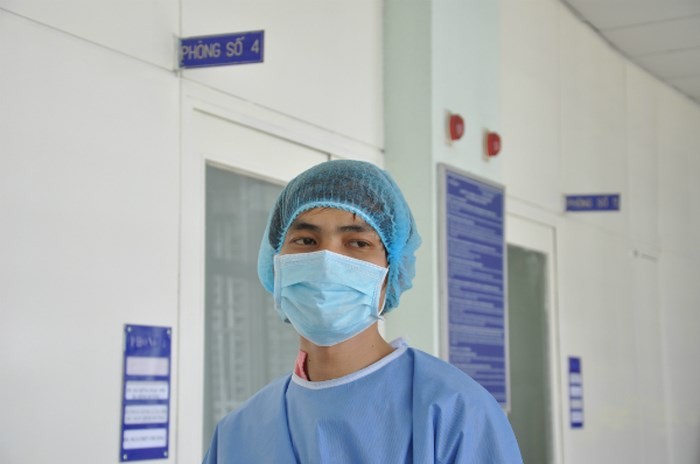 The heart-transplant patient has recovered and walked along the hospital corridor on March 19, 2018. (Photo credited by Cho Ray Hospital)
The heart recipient was close to death after 2 previous attempts failed. The plane landed at Tan Son Nhat airport at 4pm, during the rush hour. Thanks to assistance from airline authorities and the municipal police, the heart arrived at Cho Ray Hospital in 15 minutes. The transplant surgery took 7 hours involving 30 doctors and staff members. The kidney transplant began at 8.30 pm and took more than 4 hours.
Doctor Phạm Thi Ngoc Thao, Deputy Director of Cho Ray Hospital, said: "We are both worried and moved whenever we have to perform an organ transplant. That feeling persists as we wait for the doctors to perform the transplants and when we wait for the arrival of the donated organs. It's a race against time."
The donor was a serviceman in Hanoi who was in a traffic accident. The two patients were poor and could not afford this organ transplant operation. All the recipients have recovered and are in stable condition.
Nguồn: vovworld.vn