Giang A Day and his vegetable garden which runs on a drip irrigation system. (Photo: KT/vov.vn)
After graduating from the Northwestern University, Giang A Day, a young ethnic Mong man in Rung Thong hamlet, Son La province, decided to visit Israel to learn how the people in the desert nation manage to farm successfully in order to discover new approaches to agriculture which could be applied by his relatives and fellow-countrymen.
Day said: "I wondered how Israelis could turn the desert into a vegetable garden supplying the whole of Europe. Although Israel is a desert country, they don't use chemicals or fertilizers in their agricultural production. So why can't Vietnam, a tropical nation with fertile soil and a good climate, farm organically? If Israel can, we can do it successfully too."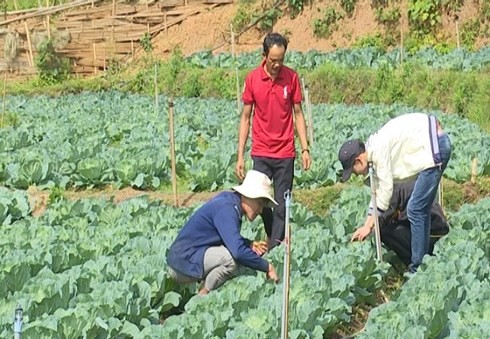 People from nearby areas come to Giang A Day's farm to learn his safe vegetable farming model using Israel's technology. (Photo: KT/Vov.vn)
Upon his return home, Giang A Day went to Rung Thong, a year-round poor hamlet due to drought and infertile soil, to trial a vegetable farming model which runs on a drip irrigation system. Dozens of vegetable crops have been successful. Some have even earned him several thousands of USD. But his passion and aspiration is not limited to changing his native land, Day wants to apply high-tech farming in his vegetable fields.
Thao Thi Sung, a Mong youth in Sa Pa, Lao Cai province, is among the young ethnic people who have started up businesses based on the advantages of their homeland. Sung opened a business in the traditional craft of making brocade.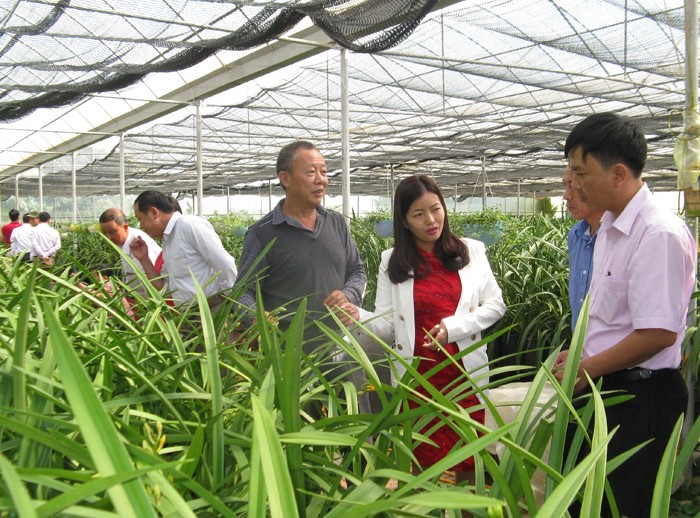 Nguyen Cam Tu introduces her high-tech flower growing model to visitors.
(Photo: baocongthuong.com.vn)
Nguyen Thi Cam Tu, a Tay person, has realized the culture and knowledge of Bac Ha district, Lao Cai province as the power behind her start up business. She is now the director of Cam Tu Company, the owner of Bac Ha flower valley which receives hundreds of thousands of visitors each year. The valley has created jobs for many local people.
Tu said: "When starting up a business, imitation only brings failure. You must create your own distinction and affirm it. Ideas are the most important element. It's necessary to understand the most typical characters and specialty of a locality."
La Van Phong, a Thai ethnic person in Quynh Nhai ditrict, Son La province, has tapped the potential of the local hydroelectric plant and natural landscape to develop ecotourism.
Phong established Quynh Nhai Fishery and Ecotourism Cooperative in 2016. It now has 20 members.
"I have become well aware that it's possible to succeed or fail when doing business as a saying: failure is the mother of success. But I strongly believe in my passion," Phong said.
Ly Ta Ren, Ly Ta Giang from Ha Giang province, Luc Thi Thanh Huyen from Thai Nguyen province, Hoang Luan from Bac Can province, and Ninh Van Trang from Quang Ninh province have all made full use of local medicinal herbs or the culture and knowledge to help their relatives and villagers escape poverty.
There are many other ethnic youths who are doing their utmost to realise their aspirations by following their passions and creating a new face for their native land. They are the ones who have promoted the startup movement in disadvantaged areas, infusing a fresh spirit into the efforts to reduce poverty and develop sustainably.
As the leading media agency in Vietnam, VOV will maximize its efforts to further foster the startup movement in areas where ethnic minority groups live. VOV will popularize outstanding examples and the startup spirit of ethnic minority groups through the nationwide "Ethnic Minority Startup" program.
Nguồn: vovworld.vn